April 2017 has been very happening for Islamabad for different festivals and events occurred simultaneously. Some had culture, some had art, some had  books etc but one festival that had it all was '5th Literature Festival'. Islamabad hosted 5th Literature festival from 14th to 16th April, held in Margalla Hotel, Islamabad. Renowned educationists, poets, writers, journalists and opinion makers attended and participated in 5th Literature Festival. A large number of foreigners also attended the festival.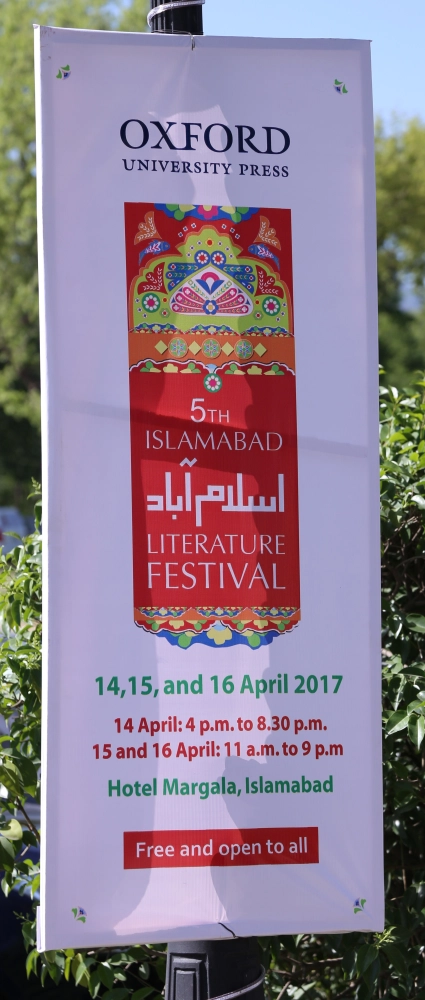 Festival was inaugurated on Friday 14th April by Ms. Ameena Saiyid and Co-Founder Asif Farrukhi welcoming all the participants and wishing them a well for the festival. A G Noorani and Arfa Syedah Zehra also addressed the inaugural session. Keynote addresses were followed by classical performance of Bharatnatyam by Amna Mawaz Khan. A large number of audience attended different sessions as Judiciary and Common Man, Heritage & Social Mobilization and book launch Prison Narratives by Akhtar Baloch.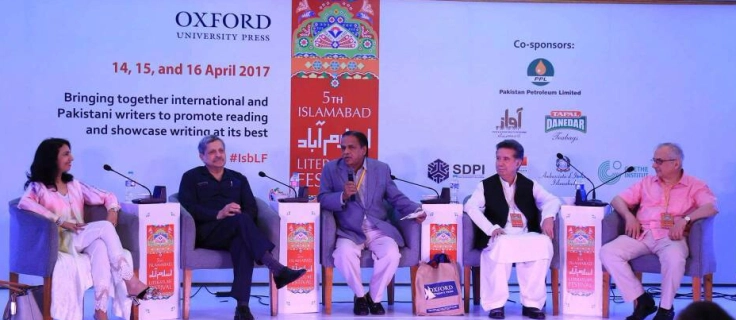 Margalla hotel was specially decorated by #IsbLF danglers, balloons, directional signs, informative standees & desk and hall wise sessions' detail. Lobby and halls were jam packed. People checked schedules from #IsbLF website to keep track of which session at what time and who are the panelists, those who were attending sessions in person kept posting pictures, quotes and videos online keeping those at home updated about what's going on.
This slideshow requires JavaScript.
Book stalls were also set in lawn where leading publishers setup offering a wide range of books and book lovers from twin cities quenched their thirst for paper-backs.
This slideshow requires JavaScript.
Day 2 & 3 were bigger in terms of public influx owing to weekend and variety of sessions from Muhsaira to a discussion on Music featuring Ali Noor. Anwar Maqsood's book launch, a session by Fasi Zaka, 2 different sessions on Sub continent specially Pakistan's cultural heritage and historical account of temples and shrines that a large number of audience specially youth attended. Here's a pictorial review of the day.
Highlight of Day three was One man Mushaira by Syed Nusrat Ali which was hilarious and everyone regardless of age, cast creed or background enjoyed. Second best was session with panelists of popular talk show 'Zara Hut Kay' and recording of the show. Other attractions including session on Kashmir where Azad Kashmir's president participated. There were couple of book launches on third day.
There was a temporary food area setup in backside lawn where participants enjoyed food after intellectual sessions, here's a sneak peak.
This slideshow requires JavaScript.
Literature Festival got quite attention on social media as well as TV & newspapers. Here's a video report by Voice of America.
As Asif Farrukhi and Iftikhar Arif termed this festival was a unique gathering of intellectuals a 'taza hawa ka jhonka' which people from Capital loved and are waiting for future additions with same zeal & zest.