They say sharing is caring and what ,care, could be better than sharing food with underprivileged ones that too in the holy month of Ramzaan. It is an integral part of our belief system, good deeds are multiplied in Ramzaan. Olper's Milk came up with this awesome campaign this Ramzaan with title of #OlpersMeherbaan. A CSR initiative by Olper's aimed at community mobilization outreaching underprivileged ones.
On ground volunteer teams visited different areas, going door to door in Islamabad/Rawalpindi, Lahore and Karachi motivated people to donate food which eventually to be shared with unprivileged ones. Teams received food items from donors, put Olper's contribution in and delivered to underprivileged
recipients in different areas of aforementioned cities.
Campaign was all about sharing food with underprivileged ones under slogan "har bejaan table ki jaan, Olpers Meherbaan" campaign started a day or two days before Ramzaan with a powerful thematic ad that kept on-air throughout the month. Parallel to advertisement on TV and OOH, digital media campaign was also run where volunteers from all walks of life participated and expressed their views about the campaign and how could everyone be part of it. Digital campaign was very well managed considering the duration and how tactfully seeders kept it alive and ensured public participation.
Olper's through their official twitter account and Facebook page, kept updating daily activity areas, pictures an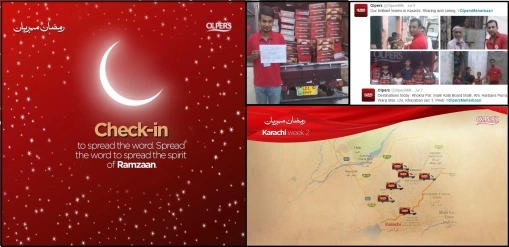 d even asked people to vote which areas to visit. In starting days of the activity largest city of Pakistan, Karachi was hit by heatstroke and claimed many lives, volunteers used #OlperMeherbaan hashtag on social media to coordinate with masses and arrange medicines, blood, water and other required items.
In total more than 24,000+ households were reached. This is among the largest community mobilization CSR activities where such huge number of people were reached and benefited from the activity. This indeed was need of the hour considering how many people live under the poverty line in Pakistan who couldn't even afford food for themselves or their families. Corporate sector coming out with such positive campaigns and initiatives beyond commercial objectives is a good sign and a betterment for public at large. I wish initiatives like this keep running so that common man can also chip in and contribute to their extent.