Hey Raina, this post is exclusively to thank you or your nephew, whoever it was, for all the awesomeness and bliss you brought to Pakistani cricket lovers, even after we lost the Semifinal.

Be sure, am not going to bash you or start a lecture about manners or down side of unlimited intake of booze. For, we Pakistani's have much more sportsmanship unlike many others. See my last post, just before the Pakistan, India match.
Anyway, true, we supported South Africa in that last super-eight game. But that's what Indians did by supporting Australia against Pakistan earlier that day. Having said that, to be realistic, our support outside the field technically didn't hurt or influence the game by any means. So it was the Indian team that played bad and lost, not because of Pakistan's support to South Africa.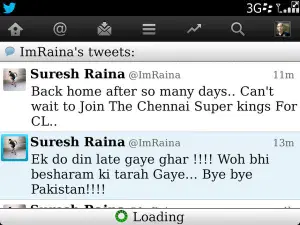 Secondly my dear, we made it to Semifinals and you didn't. Accept that fact and live with it for the rest of your life. You are a very good player but only in IPL on home grounds. Needless to say how heart-broken we were after losing semifinal. Shattered and started bashing our own heroes. We individually analyzed every player, called them names and what not. But that's our way of loving/owning them.
But you my dear were a great help to provide us the opportunity to be united again and start bashing something collectively. You or your nephew, whoever, provided us utter bliss and enjoyment (go through these hashtags #RainaNephew, #TweetLikeRaina, #ReplaceMovieTitleWithNephew).  So thank you very much for that tweet you probably composed while you were extremely high of something, watching your IPL performances.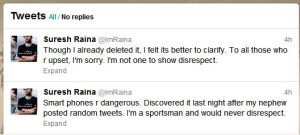 If you go through social media (FB/Twitter) of both countries, before and after these matches, you'd find a great difference in attitudes of both countries; needless to say which one's better, all hail Aman ki Asha. Now, that you've lost and have some time left for the IPL, take some-time out and learn how to play well on ground with bat rather playing with words on twitter later on, for which you have to apologize as well. And secondly, learn how to control emotions first, if not, at least accept your fault like a man. Although we forget our defeat because of your action, and apology later one, but dear a neighbor's brotherly advice, your excuse is nothing but crap seriously, grow up.
Good luck for IPL, where you perform the best =D
Regards,
Me not my Nephew