originally published at http://soul.pk/2015/11/13/siachen-by-anwer-maqsood-kopykats/
They say, 'home is where the peace is' one finds solace at home. Ever wondered how come our homes are safe and how we lead prosperous lives? Because some people among us leave their homes, all the comforts, their cozy beds and loving families so they could safeguard others and enable them to lead a prosperous and happy life with their families. We are thankless people, if it's not for national days we never even speak of them let alone listen their stories or miseries and how they carry on with life.
Few days back I happened to watch this theatre play "Siachen" produced by renowned group Kopykats and written by the master of game Anwer Maqsood himself. As I mentioned somewhere else too, 'some people are blessed when it comes to portraying, expressing and effectively conveying the message across, then there's Anwer Maqsood who needs no introduction. Anwer Maqsood among other fields have been on top of theater play-writing for quite some time now'. Kopkats and Anwer Maqsood together have presented some of the best theatre plays in recent past and now they are up with 'Siachen'.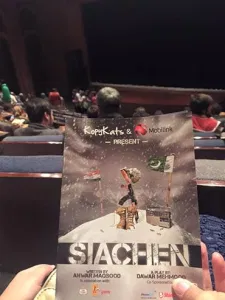 Siachen revolves around soldiers posted at Siachen the highest battle ground in the world. Scenes and dialogues talks about how bravely they carry themselves, depicts how survival is itself a challenge up there.  Soliders are stronger creatures but deep down their hearts they are as humans as others. They miss their homes and families, they have similar emotions and all, yet they have this courage inculcated in them to take challenges head-on, stand tall to the situation regardless of how gravely dangerous it is. Set complements dialogues and scenes. It creates different situations, sometimes as intense as you are on verge of breaking and exactly at that moment character cracks a well-balanced joke to normalize the situation, sometimes it scratches the patriotic side of you and you feel like shouting Pakistan Zindabad or Naar-e-Takbeer etc and sometimes it turns into a comedy stage play with punches on metro bus service or bahria town that leaves you laughing your lungs out. People from Islamabad can totally relate to metro jokes which made it even more a treat to be there. If I have to sum whole 90 minutes in one sentence I'd rather say 'roller coaster of emotions with balanced opinion on some national matters and message well conveyed'. A commendable effort from the whole team everything felt so perfect from script to set and dialogues delivery to the cast well directed and produced, totally recommended from my side.
Having said that, when we commend minds beyond this we should also appraise the sponsors behind this who made this script a reality somehow. As you enter PNCA building Islamabad you cannot miss noticing a huge wall hanging of SOOPER biscuit on the front wall. English Biscuit Manufacturers (Pvt.) Limited (EBM), Pakistan's leading biscuit manufacturer, has been a consistent patron of the local theatrical industry.