originally published on 20th Feb 2012 on http://abrarkureshy.blogspot.com/2012/02/bitter-truth.html
Baluchistan is burning with hate; love care and respect are only extinguishers
I couldn't resist to these lyrics from Goo Goo Dolls Dolls IRISin pretext of contemptible condition in Baluchistan, the largest province of Pakistan.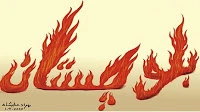 And you can't fight the tears that ain't coming
Or the moment of truth in your lies
When everything feels like the movies
Yeah you bleed just to know you're alive
Amid all these rallies and sit downs and what not for even the least possible important issues in this country, I wonder how come no political party or group of social activists come up with even a small scale protest for Baluchistan. Be it gas load-shedding or Shezan juice ban issue, they come up with ideas in seconds but when it comes to Baluchistan, no one speaks up. I have read more pieces on an ongoing drama serial Humsafar than on Baluchistan's current situation. Feels like Baluchistan is our step brother, infect worse than that. We all use their resources but deny facilitating them in any way. Even media, the so called front-row solider for much talked about revolution forgets to mention Baluchistan the way it deserves. We so proudly show indian award shows, movies and paid American content on our local channels but no one dared to do a documentary on Baluchistan. We celebrate Kashmir Solidarity day every year as public holiday, but we never even once mentioned 'a moment of solidarity with balochs'. They all have equally sacrificed for Pakistan as anyone else here did. Instead of talking things out we start military operations. I never heard about any convention for Baluchistan with sole intention of coming up with a solution of ongoing problems, inviting all the political parties and tribal leaders and Jirga members that proved fruitful. Things can't be improved by only saying they will. 
Americans presenting bills in their parliament that Baloch's have rights to struggle for a separate country, and all we did was to issue a 'condemn statement'. Pakistan has become a human hunting ground like they kill caged animals in South Africa, the worst part, many NGOs and social activists are campaigning against it but so sadly and shamefully we aren't even speaking about our brothers and fathers being murdered brutally for ethnic and sectarian reasons!
We all talk about equality and harmony and what not. We celebrate countless days with full zest and ensure participation, make Facebook events and even pages and make them trend on twitter, blog posts, Op-eds and every other action possible. I never came across any such thing for Baluchistan. It's not Baluchistan by the way, it's about all of us. I randomly searched "Baluchistan" on Facebook to find out if we have any pages; this was the first page I came across with over 8K likes. I don't know if I was overwhelmed, ashamed, and sad or doomed seeing this. I hardly know any famous poet, scholar, sportsman, actor or any other prominent figure from Baluchistan. All we know about Baluchistan is their incapable and comedian politicians which we Alhamdulillah have in abundance across Pakistan. I refuse to believe that there never existed a scholar, poet, sportsman or actor in Baluchistan, our largest province, richest in natural resources, brave people. No one ever highlighted them, every time we see/read something about Baluchistan is they are terrorists and what not. My humble request to literate brothers and sisters from Baluchistan to come forward, let the world know that you exist. Make yourself count, write about Baluchistan, about its culture, people, traditions so that we all know, we could relate all that to ourselves.
We haven't done anything for Baluchistan, except for looting them day and night and keeping them from all basic necessities of life. I couldn't find any stats for developments in about last decade in following fields:
Education (Universities/schools/colleges)

Health (hospitals in metros and non-metros and government plans for public health)

Economic Activity (conducive environment for general business activity)

Industry (setting up of new industries)

Agriculture (development/production of agriculture and contribution in GDP)

Safety and security (government support for public safety rather than detaining them)

Skill development (vocational training institutes and centers)

Poverty alleviation (

Infrastructure (general road/train/airport)

Exports

Tourism

Technology (general development)
Now that we haven't done anything yet, we have very little time to actually do something. Baluchistan is slipping away; we all have to play our roles. At least talk about it. Tell them we love them and they are part of us as closer as any other parts of this country. Write about it, learn about it, make documentaries, do some shows on the core issue (not that dramy bazi like Geo's the great debate, a constructive one), promote trends on twitter about Baluchistan. Although I don't have hope for anything good from politicians but still if they could consider above listed areas to work on so that they could loot more money from these many avenues. There's a famous poem by legendary poet Ahmed Faraz, "ab mer dosray bazu pe". These were originally written in other contexts, listen to them with reference of Baluchistan, patriotism might emanate through eyes.
Remember, Pakistan is our motherland; no one really likes to see her mother's hands being chopped off.
Pakistan Zindabad!